You don't need some HBO epic about incestuous medieval royalty to tell you winter is coming. Instead, just watch the green bleed out of the forests. As temperatures drop and days shorten, those trees prepare for the darkness by shutting down photosynthesis. Gradually, like a Chicagoan's exercise regimen, they shut down for the winter.
What does this mean? It means trees stops producing chlorophyll, aka the chemical that makes leaves green. What results is America's most glorious season for scenery, when our more temperate climates (sorry, California and Florida) turn into a blazing rainbow of oranges, yellows, reds, and purples. And people spend their weekends driving through the countryside to take it all in. Since we've all seen Family Guy, and know New Englanders like leaf peepers about as much as they like Bucky Dent, here are 13 places outside New England with fall colors that are worth making a trip for.
Upper Peninsula, Michigan
Yeah, it's a bit of an oddball place, but even in a state known for beautiful water scenery, no place tops the Upper Peninsula. The best spot to catch great views is in the far north, at Copper Harbor, but a drive through the vast wilderness on the way there is just as vibrant, and mostly uninterrupted.
Pocono Mountains, Pennsylvania
This vast mountainous region in Eastern Pennsylvania spans 2,400 square miles, so you can visit any of its three leaf-peeping regions at different points of the fall and get a completely unique experience. With 127 different types of foliage, peak season will vary between the northern, central, and southern regions, and the tourism department's Facebook page lets you know when each one is at its peak.
Shenandoah National Park, Virginia
Fall colors are great. Fall temperatures? Not always so much. That's why if you prefer the climate-controlled comfort of your SUV there's no better place in America for leaves than Shenandoah National Park. It's home to the famous 105-mile Skyline Drive, where you'll be enshrouded by a canopy of red, orange, yellow, and green.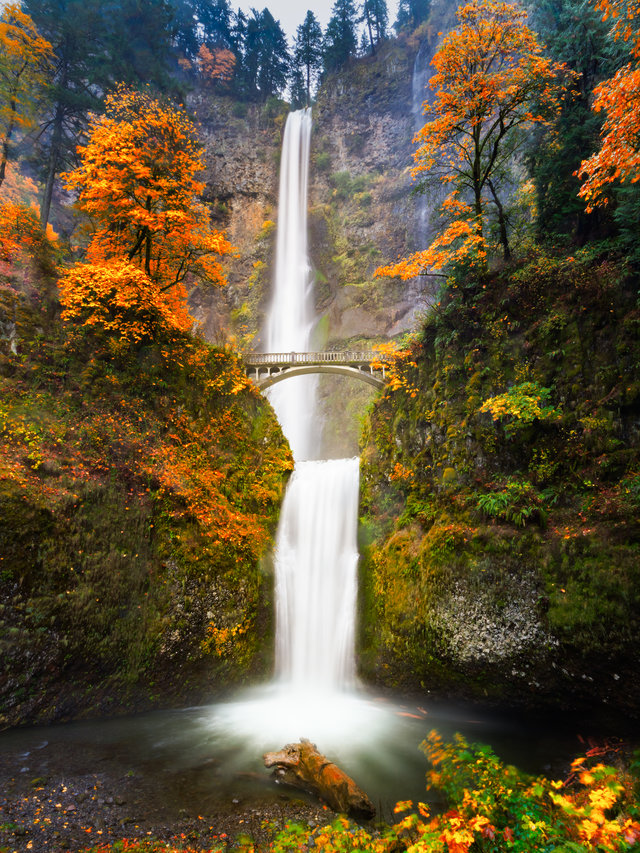 Columbia River Valley, Oregon
The Pacific Northwest might be the country's most underrated region for fall colors. Many think of it as either evergreen or desert, but a hike to Multnomah Falls during September or October will have you standing on a bridge under a thundering waterfall, surrounded by the brightest colors you'll see in the region.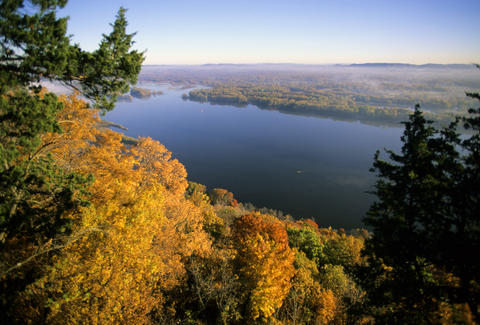 Great River Bluffs, Minnesota
For the best view of these bluffs that line the Mississippi River, jump on the Great River Rd — aka Hwy 60 between Red Wing and La Crescent. It'll not only take you through charming little river towns, but also some of the state's best scenic overlooks at Frontenac and Great River Bluffs State Parks.
Aspen, Colorado
It's worth a trip to this tiny resort town outside Denver just to spot bright yellows and oranges against majestic snow-capped mountains. But if you truly want to go all back-to-nature and shoot your own dinner while you're there, Aspen Outfitting will take you out into the fall foliage with trained dogs, help you flush out birds, and bring back whatever you manage to hit.
Great Smoky Mountains National Park, North Carolina/Tennessee
America's most visited national park relies on more than just the Old West photos in Gatlinburg. Summer hiking and winter skiing aren't even the best reasons to go. The best time to visit here is the fall, when the Great Smoky Mountains turn to fire (figuratively) in a sea of orange, yellow, and red. The best way to scope the splendor is to hike to Looking Glass Falls.
Adirondack Mountains, New York
While the final two weeks of September here might be the peak of leaf-peeping season, festivals in the region run almost every weekend through October. Hit the Lake Placid Olympic Jumping Complex for the beer-and-barbecue-soaked Flaming Leaves Festival on October 8th-9th.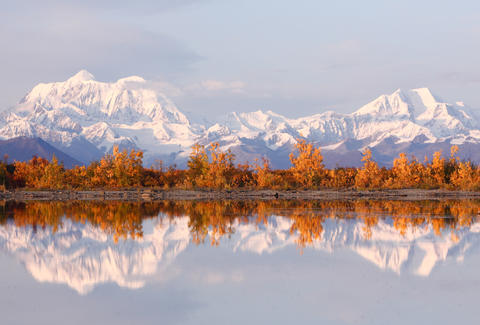 Denali National Park, Alaska
Alaska might seem a little far to go for fall foliage, but by September the throngs of seniors on tour buses are gone and you can enjoy the brilliant fall colors of America's North by yourself. A drive through the park not only showcases the bright hues set against Denali, but also affords a chance to see moose, bear, and elk doing their thing amid the turning leaves.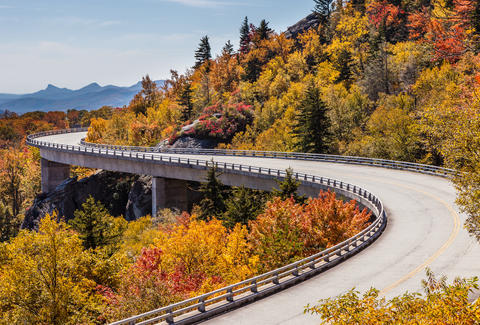 Blue Ridge Parkway, Virginia/North Carolina
Because this parkway shoots from 650ft in elevation at its start in central Virginia to 6,000ft at its end in the Cherokee National Forest, the timing for your colorful trip here will vary accordingly. Typically, higher elevations will turn first — towards mid-September — and the lower elevations will turn later.
Telluride, Colorado
The fall colors along the route from Denver to this town in Southwest Colorado make the road trip down US-285 one of the most scenic drives on the planet during those months. Once you arrive at your destination, hop on the free gondola and gawk at the aerial view as you pass over the summit.
Grand Teton National Park, Wyoming
Fun fact: Grand Teton National Park is the only one in America with a commercial airport operating within its borders. Which means you can get your leaf-peeping started early on the approach into Jackson Hole, and if you get a good winter you can continue it as you careen down the slopes for some late-fall skiing.
Catskill Mountains, New York
For grand views of leaves in as many as five states at once, nowhere beats the Catskills. The famous "Five State Lookout" in East Windham will have you scoping leaves in New York, Vermont, New Hampshire, Massachusetts, and Connecticut simultaneously. You can also summit 3,214ft Mount Utsayantha for a 360-degree fall foliage experience. If you're not so active, there's a chairlift at Hunter Mountain that'll give you a nice slow look at the changing colors.
Source: https://www.thrillist.com